Concert Review: Luke Bryan at Darien Lake Amphitheater
The last time this reviewer saw Luke Bryan, he started his set atop a platform attached to a Tracker four-wheeler. It was summer 2019 and his "What Makes You Country" tour was winding its way through outdoor amphitheaters, playing to sold-out crowds. The man just knows how to entertain and give his fans a memorable show.

Always the summer road warrior, Bryan brought his "Proud To Be Right Here" tour to Darien Lake Amphitheater on Saturday August 14th. The show started off in grand fashion with an enormous mirrorball descending from the ceiling. As the lights filled the amphitheater, the band kicked off the opening notes to "That's My Kind of Night" from behind a scrim on stage. The scrim dropped to reveal Luke Bryan and his band. The crowd was deafening.

Once he started it was one hit after the next. His current album 2020's Born Here Live Here Die Here already has four number-one singles with the fifth about to reach the mark. This concert was Luke's first time playing a lot of these songs live for fans.

The production was fitting for an artist of Bryan's caliber. Gigantic video wall, lasers and cryo jets helped bring the songs to life. Halfway through his set he brought opening acts Dylan Scott and Caylee Hammack out to sing his hit "All My Friends Say." This was the last date on the tour for Hammack. Known for her glamorous stage attire, Hammack threw a curveball at Bryan and the audience. She appeared on stage wearing the same thing Bryan was wearing. Blue jeans, white tee and backward baseball cap. Bryan appeared to be very amused.

A short solo acoustic set followed with Bryan taking the stage alone. He ran through abbreviated versions of several of his early songs including "Do I," "We Drove In Trucks" and "Most People Are Good."
The band joined him and proceeded to rip through another nine songs before ending with the apropos "I Don't Want This Night To End."

Opening the night was the aforementioned Caylee Hammack. She played a twenty-five-minute set that was entirely too short. Hammack is destined for superstar status. Country music titan Chris Stapleton recently asked to sing on her song "Small Town Hypocrite." Her music is contemporary country but there is a definite traditional country flavor just under the surface. She evokes thoughts of Dolly and Reba when I see her perform. She even threw in an Eric Church cover for good measure before closing her set with her debut single "Family Tree."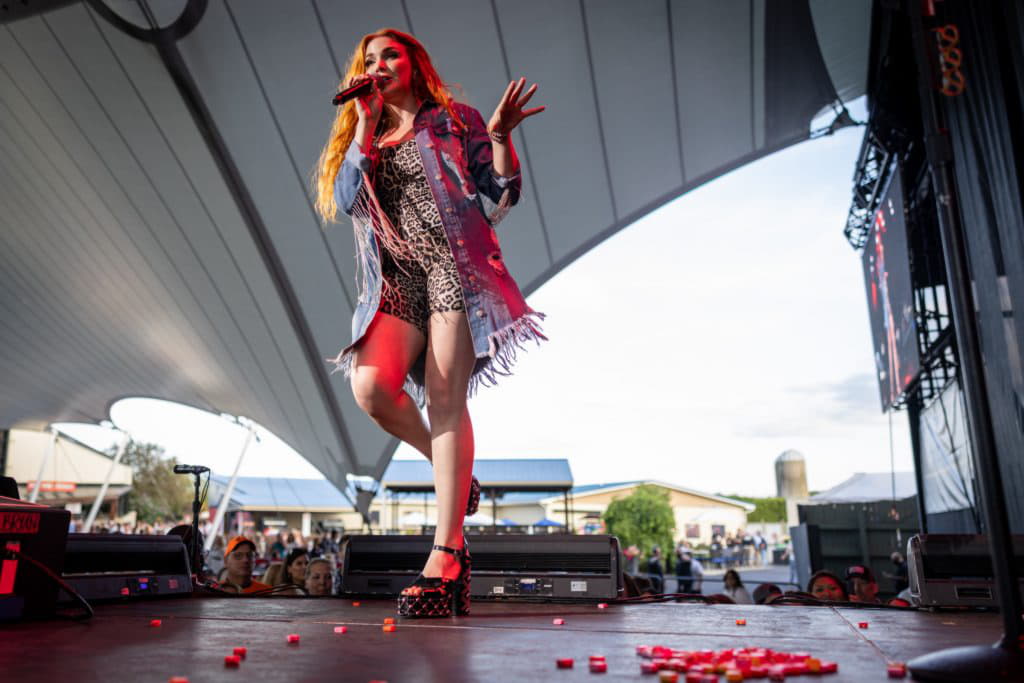 Dylan Scott was the middle act on the bill. Scott has had a string of hits beginning with his single "My Girl" which went to number one in 2016. An energetic performer, Scott ran through his hits and included a fantastic cover of "When You Say Nothing At All" by the late, great Keith Whitley. It is refreshing to see young country artists still showing love for Whitley. He did a medley of classic country songs including songs by the Eagles, Nitty Gritty Dirt Band, Tim McGraw, David Lee Murphy and George Strait. He closed his set with "My Girl" and the crowd nearly drowned him out singing along.
It was a great night of country music at Darien Lake Amphitheater. The next country show here will be the Zac Brown Band who will be bringing their "The Comeback Tour" to the amphitheater on September 4.