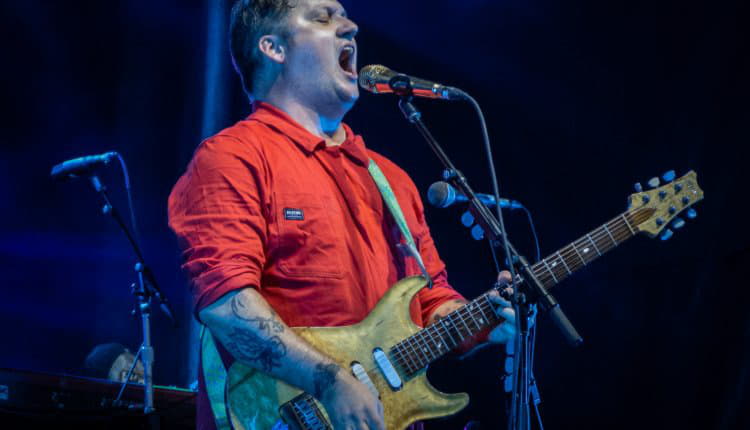 Concert Review: Modest Mouse at Brewery Ommegang
On Saturday, August 5, Modest Mouse made their long-awaited return to the concert grounds at Brewery Ommegang. The show was fully sold out with over 5000 spectators in attendance. Isaac Brock and company took the stage shortly after 8 p.m. to a rousing ovation from the crowd.
Opening with "3rd Planet" from 2000's The Moon & Antarctica, followed by brand new track "Fuck Your Acid Trip" off the new record The Golden Casket, Brock was in peak form. Shortly after finishing the second song, lightning strikes in the area forced the band to leave the stage and the field to be evacuated. All 5000+ made their way to their cars, unsure when or IF the show would continue. Additional lightning strikes within seven miles of the concert site pushed the delay to nearly 10 p.m.
Fans were let back in and the band took the stage around 10:30 pm to finish out the set. Full disclosure, this reviewer hired a babysitter and had to leave to make the hour drive back home. I am told that I missed an epic performance with Brock adding two additional songs to the setlist. I will be kicking myself for quite a while.
SETLIST
Set 1:
3rd Planet
Fuck Your Acid Trip
(intermission due to lightning nearby, venue evacuated, approximately 8:45pm to 10:30)
Set 2:
Ocean Breathes Salty
Lampshades on Fire
Breakthrough
Leave a Light On
Fire It Up
Float On
Convenient Parking
We Are Between
We're Lucky
Bukowski
King Rat
Wicked Campaign
Dashboard
Encore:
Wooden Soldiers
Cowboy Dan
Back to the Middle
The View (with Isaac's 'I have an alibi' speech)
Japanese Trees
Pennsylvania-based band The Districts opened the show with a lively 30-minute set. Lead singer Rob Grote led the band through six tracks of high-energy alternative rock. The set included two new, unreleased tracks as well as tracks from this year's release You Know I'm Not Going Anywhere and tracks from 2017's Popular Manipulations.
SETLIST
Revival Psalm (New Song)
Salt
If Before I Wake
Do It Over (New Song)
Cheap Regrets
Sidecar