Live: Shinedown-Revolutions Live TourLive at St. Joseph's Amphitheater at Lakeview
On Wednesday September 13th, Shinedown-Revolutions Live Tour made it's way to the St.
Joseph's Amphitheater at Lakeview in Syracuse NY. With supporting acts Spiritbox and Papa Roach,
American rock band Shinedown is touring in support of their seventh studio album, Planet Zero that was
released earlier this year. Their current radio single "A Symptom of Being Human" continues to climb
radio charts.
Around 9pm the house lights went down and two large LED screens lit up, showing fun clips of
the band on the road from previous shows, getting the audience pumped up. The video ends and the
screens slowly separate as smoke rises and Shinedown emerges from the center of the stage, almost as if they are getting off a spaceship. The concert starts off with a literal BANG, fireworks explode from the back of the stage as Diamond Eyes (Boom-Lay Boom-Lay Boom) blares thru the speakers.
Keeping up the energy more explosions and flames erupted from the stage as "Dead Don't Die" begins. A banger of a new track off of the new record Planet Zero.
Suspended from heavy chains and lined with LED lights, a piano descended from the ceiling as Eric traded his bass for the keys and the first few notes of "I'll Follow You" rung out. A perfect moment to slow things down with a rock ballad that has been a favorite for more than a decade.
Throughout the show it was amazing to see the band's interactions, not only with the audience, but the band's chemistry as well. Lead singer Brent Smith made his way across the stage interacting with both fans and his fellow musicians. You could find him banging his head along to the drummer's insane beats, or having an intense stare-down with the guitar player as he shredded along. It was cool to see the guitar player take a moment a top of the piano, vibing with Eric before singer Brent sat down on the bench throwing his arm around him.
All in all, Shinedown's 19 song setlist did not disappoint as they blasted thru all the fan favorites from 2001 thru present.
Be sure to check out Shinedown's current radio single "A Symptom of Being Human" and find the entire new album HERE.
Setlist: Shinedown
Diamond Eyes (Boom-Lay Boom-Lay Boom), Dead Don't Die, I'll Follow You, State of My Head, Amaryllis,
Devil, Unity, Save Me, 45, Enemies, Sound Of Madness, A Symptom Of Being Human, Planet Zero, The
Middle (Jimmy Eat World cover,) Daylight Get Up, Simple Man (Lynyrd Skynyrd cover), Monsters, Cut
The Cord.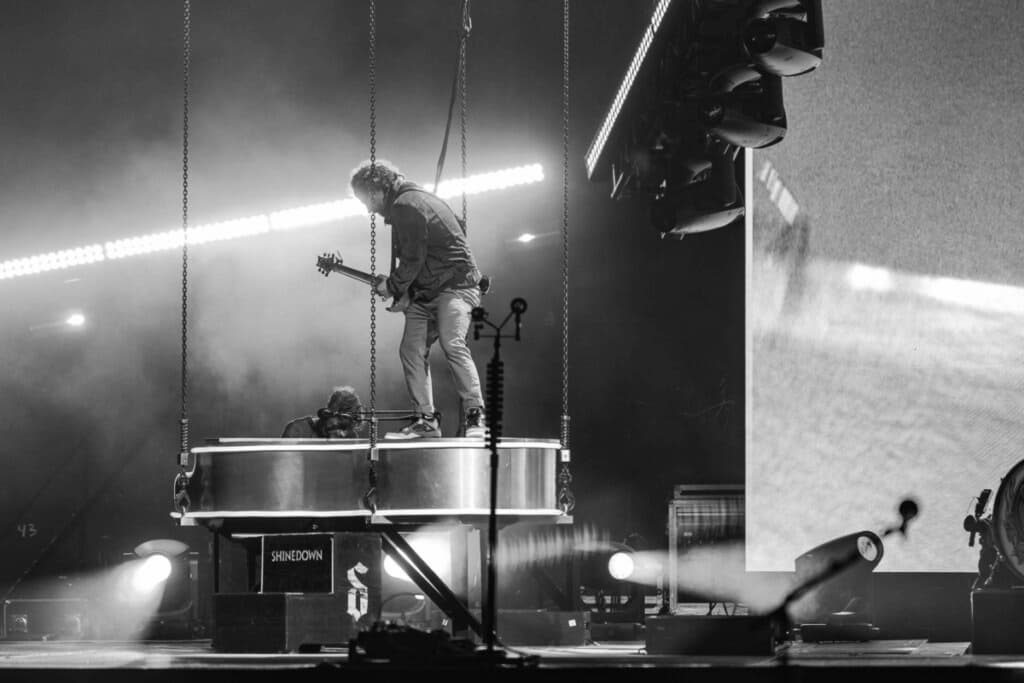 Papa Roach Setlist:
Between Angels And Insects, Kill the Noise, Getting Away With Murder, …To Be Loved, California Love
(Tupac cover) Firestarter (The Prodigy cover), Scars, No Apologies, Leave a Light On, Forever, Born For
Greatness, Help, Last Resort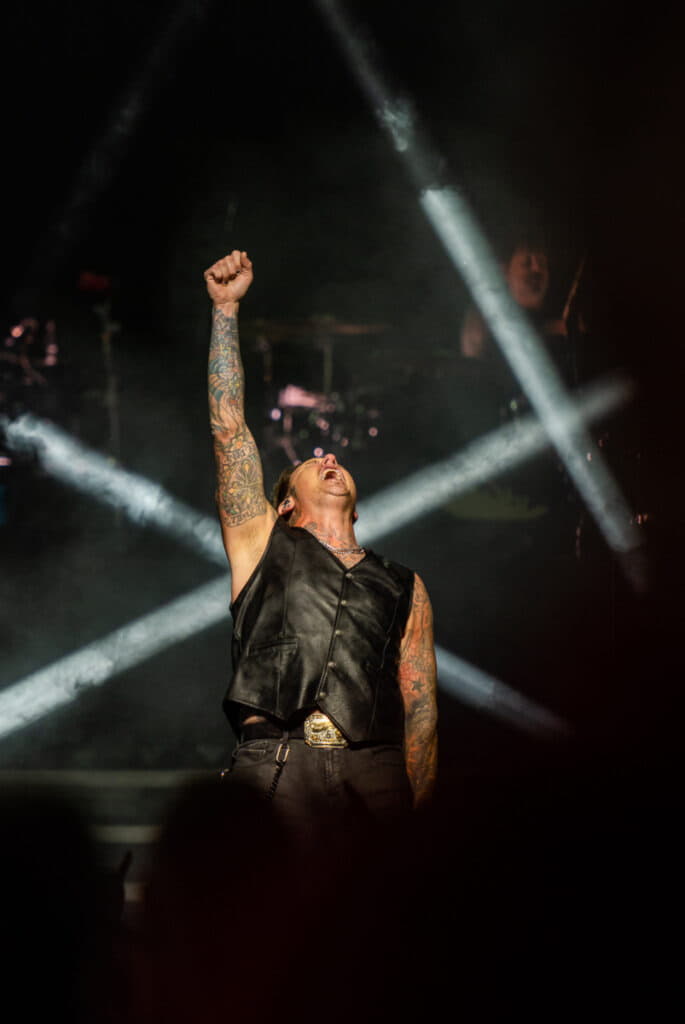 Spiritbox Setlist:
Jaded, Hurt You, Yellow Jacket, Rotoscope, The Void, Circle With Me, Holy Roller