LIVE: Fozzy Sells Out The Lost Horizon
Fozzy sold-out the Syracuse's legendary Lost Horizon April 15 on their Save the World tour.
Before Fozzy took the stage, the crowd went wild when the lights dimmed and Journey's "Don't Stop Believin'" started to play, getting everyone's blood pumping for the main event. All of the members of Fozzy were interactive with the crowd, making sure everyone was having a great time. Guitarist Rich Ward was amazing on the guitar, making faces at the crowd and genuinely having a blast honing his craft on stage. Chris Jericho, the lead vocalist, was an amazing frontman. He wore specially made sneakers with Fozzy's logo on them and would get close to the audience by putting one foot on the barricade and getting up close and personal with them. The top of the stage was fairly low, so Jericho would grab hold of the rafters and pick himself up and swing. Throughout the set, he would get on his Fozzy riser with his microphone and stand and put it out for the crowd to sing into.
Jericho gave an inspirational speech before singing "I Still Burn," thanking the crowd for making their dreams come true saying "We want to thank you for making our dreams come true, to travel around the world and play in front of sold-out audiences like yourselves, we thank you for that!"
"We are living proof that dreams come true, if you have a dream, if you have a goal, something that you want to do, GO MAKE IT HAPPEN! No excuses, make it happen, this next song is all about the passion and fire to achieve the success you want to achieve, this song is called "I Still Burn," Jericho proclaimed.
During Fozzy's song "Enemy" lead vocalist Chris Jericho took a step back and let Guitarist Rich Ward and guitarist Billy Grey show off their skills. Ward and Grey performed their guitar parts side by side bringing their energy together intensifying the song to a whole new level. Ward also showed off his vocal skills during "Enemy" and "The Vulture Club."
Fozzy's sound was a mix of hard rock and heavy metal, and their setlist was fantastic, with a great mix of their classic songs and newer material. They ended their set with their hit song "Judas" and "Blitzkrieg Bop," which had the entire crowd singing and jumping along.
The first band to take the stage was Nocturnal Affair. They kicked off the show with a bang and had great energy. Even though the small stage was crammed, they didn't let that affect their performance. The lead singer was very interactive with the crowd and even jumped into the photo pit area to sing to fans and fist-bump some of them. They played a solid set and got the crowd pumped up for the rest of the night.
The second band to perform was Seventh Day Slumber. They were equally great and made the experience great for the crowd. They had an automated intro to their set breaking down all the possible "risks" of being a part of their show, much like an informative recording before going on an amusement park rollercoaster. They rocked heavily and had religious elements sprinkled into their lyrics. The lead singer paused to give an inspirational pep talk to the crowd, sharing his own story of overcoming drug addiction and jail time. He was a true testament to the fact that you can turn your life around. Seventh Day Slumber also encouraged the crowd to help those in need and sign up to help a child in need, and in return, they would give them some of their merchandise.
Overall, the concert was a huge success, with all three bands delivering great performances that had the crowd energized and entertained throughout the night. Each band brought its own unique sound and style to the stage, making for a diverse and exciting lineup. The Lost Horizon was a fun venue for this concert, giving fans an intimate atmosphere and experience with the band. If you get the chance to see any of these bands live, don't hesitate.
Fozzy Gallery: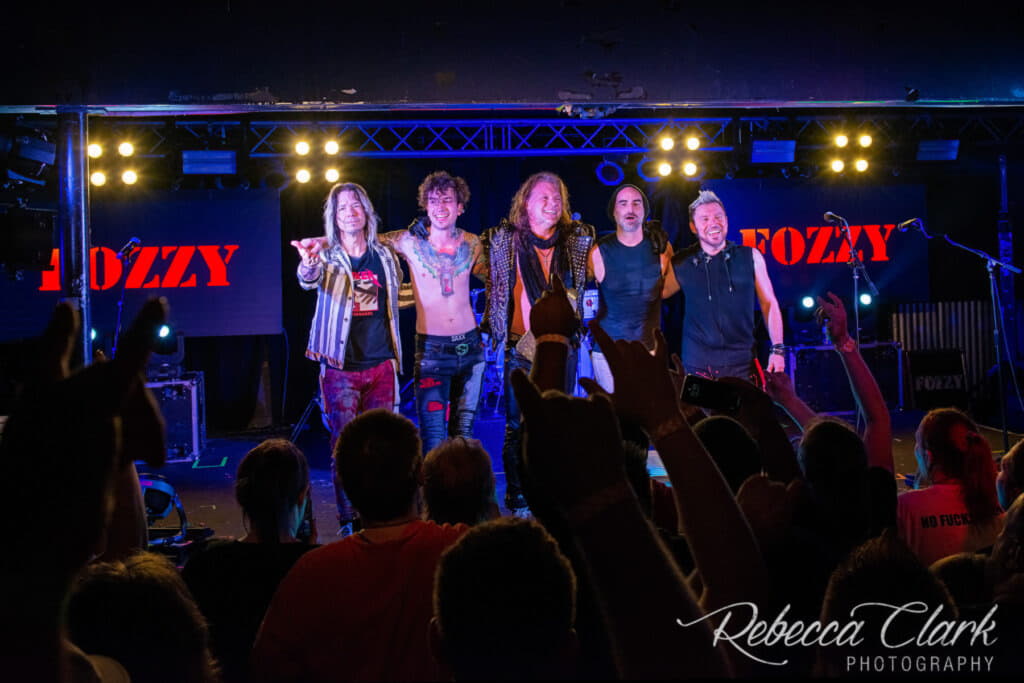 Seventh Day Slumber Gallery:
The Nocturnal Affair Gallery: