LIVE: Shinedown at the Amp
As Shinedown's Planet Zero Tour rolled into Syracuse this past weekend, and the summer sunset along the horizon of Onondaga Lake earlier than normal, we prepared for one of the final concerts of the summer season at St. Joseph's Health Lakeview Amphitheater.  
Newcomer, John Harvie, was the first to take the stage and got the party started as the already packed crowd filled their seats and lawn area.  This young man and his band were high octane and set the bar pretty high for the night. John Harvie, who rose to fame through TikTok, may have gained attention through the social media avenue, but it will be his talent and stage presence that will catapult him further on the road to success.
Following Harvie was Jason DeFord, better known to his fans as JellyRoll.  To say he was a force of nature is an understatement.  This man commands the stage the moment he takes it.  He is unapologetically himself.  Whether he's singing rap, rock, or country, he has your attention the entire set.  This journalist was blown away. 
In the business for over a decade, he has made music his own way grabbing the attention of everyone who has the opportunity to see him.  Growing up in Nashville, he has been immersed in country music his whole life, but his fame and attention came as a rapper. As he sang his way through his stellar set, he delivered a diverse mix seamlessly alternating between genres. 
What this reporter noticed first and foremost was his honesty in his music and his love towards his fans.  Liberating a golf cart earlier in the day, he made his way out into the parking lot area to say hello to those tailgating and to share a few moments before his set.  There is nothing fake about this man. His message that music transcends and heals is God's honest truth.  No matter who you are, music unites all and JellyRoll is one hell of a musical evangelist.
The final act of the night was of course Shinedown.  This band has been around since 2001, and they have accumulated numerous accolades over the years; including the 18 number one rock songs. What never ceases to amaze me is the fact that they still pack a venue every time they come to town.  They are not only amazing musicians, but they are also top-notch entertainers and they make sure each show is better than the last.
Opening their set with a video depicting their return, they built momentum with the four members welcoming the crowd before taking their spots on stage.  A very personal thank you from the guys.  With an explosion of sound and fire, they jumped in cannonball style and put on another epic performance featuring both new music from their new album Planet Zero and old favorites.  Concert goers were not disappointed.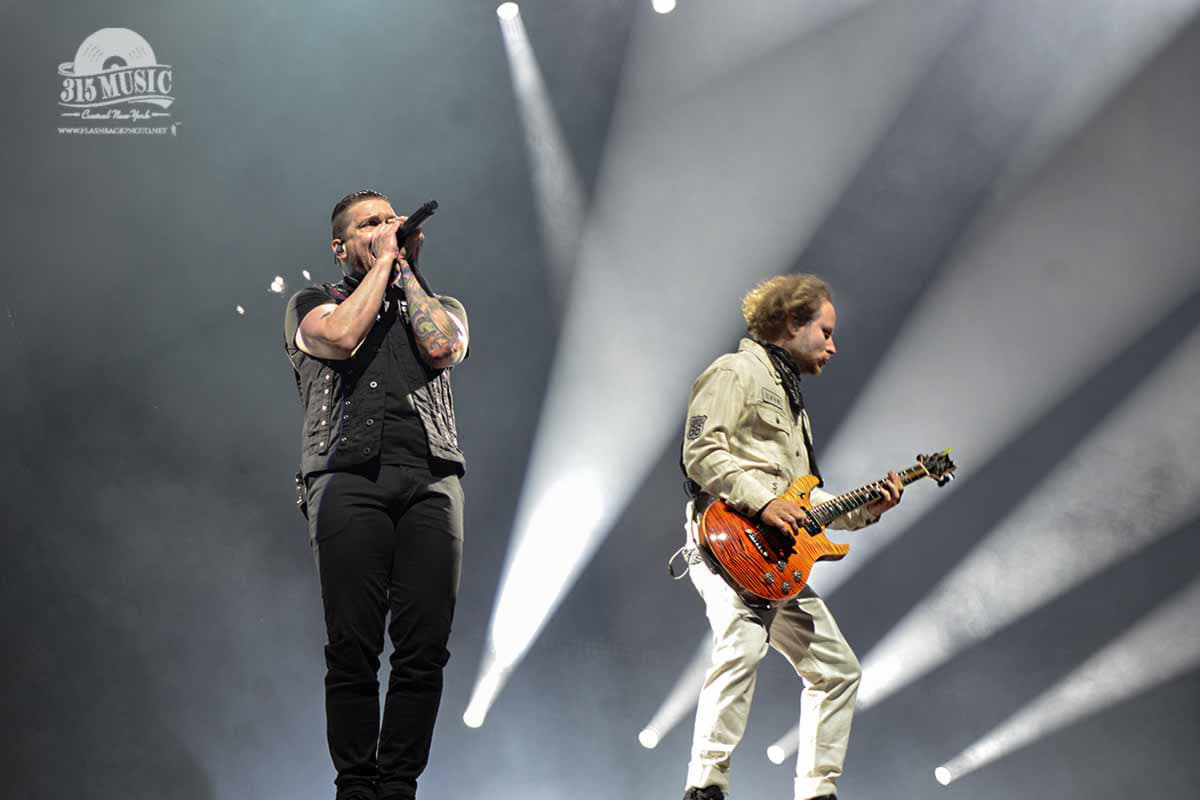 John Harvie setlist: A Little Bit Longer, Worse, Haunt Me, My Name (In Your Mouth), Alaina, Beauty in the Bad Things, Not Another Song, Bleach (On the Rocks)
JellyRoll setlist: The Hate Goes On, Only, Same Asshole, Fall in the Fall, Son of a Sinner, Sweet Home Alabama / Smells Like Teen Spirit / 99 Problems / Killing in the Name / Beer Never Broke My Heart, Smoking Section, Dead Man Walking, Bottle and Mary Jane
Shinedown setlist: Welcome/2184, The Saints of Violence and Innuendo, Devil, America Burning, How Did You Love, 45, Bully, The Crow & the Butterfly, Enemies, Planet Zero, Daylight, Monsters, Second Chance, Cut the Cord, Get Up, Don't Look Back in Anger (Oasis cover) Encore: Diamond Eyes (Boom-Lay Boom-Lay Boom), Simple Man (Lynyrd Skynyrd cover) (with Jelly Roll), Sound of Madness