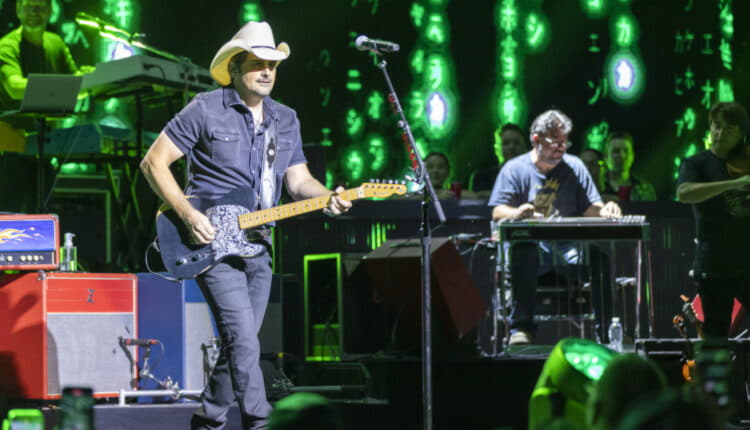 LIVE: Brad Paisley & Friends at The Amp
On Thursday night Brad Paisley arrived at the St. Joseph's Health Amphitheater in Syracuse with his 2022 Summer Tour. He brought Caylee Hammack and Scotty McCreery along for the ride.
Paisley started his set with the upbeat "American Saturday Night" and kept the energy up for the whole night. His guitar playing is incendiary. In each of his hit songs, he finds time to inject his guitar acrobatics. At one point he paid tribute to the late, great Eddie Van Halen with a blistering cover of Van Halen's 1984 smash "Hot For Teacher." He not only played it note for note, but he also did it on a Telecaster, not exactly the kind of guitar one would expect to hear on that track.
Paisley has always been good to his fans and last night was no different. A little boy in the front row held up a simple sign that read "It's My 8th Birthday." Paisley made the time to wish him a happy birthday and to hand him a guitar pick. Later in the night, he surprised the boy with a stage-played guitar.
Openers McCreery and Hammack joined Paisley on stage later in his set. Hammack covered the Alison Krauss vocal on "Whiskey Lullaby." Her voice fit the haunting, mournful tone of the song perfectly. He closed out his main set with the fan favorite "Mud On The Tires." A two-song encore followed, featuring "Alcohol" and a stellar cover of Don Henley's "The Boys of Summer."
American Idol winner Scotty McCreery filled the direct support slot. He played all of his radio hits and a bunch of country classics. George Strait's "Blue Clear Sky" turned into a singalong. McCreery explained how he had written the song "This Is It" for his wife, never intending to release it publicly. After some coaxing by his record company the song was released and went right to number one. He closed his set with a host of country covers including "Folsom Prison Blues," "Forever and Ever Amen" and "Chattahoochee." His love for the classics and his experience with American Idol really helped propel this portion of his set.
Hammack took the stage first, just as the sun started to set over the lake. The gorgeous sunset cast a warm yellow light over the performers on stage. She ran through a brief thirty-minute set, stopping to take photos with fans in the pit. Hammack writes her own songs, none more personal than the ballad "Small Town Hypocrite." She explained that last year she reached out to Chris Stapleton to see if he would sing on the track. To her surprise, he said yes. During a rowdy rendition of the Tom Petty classic "Mary Jane's Last Dance," Hammack showed her chops on harmonica. Her set was short but memorable.