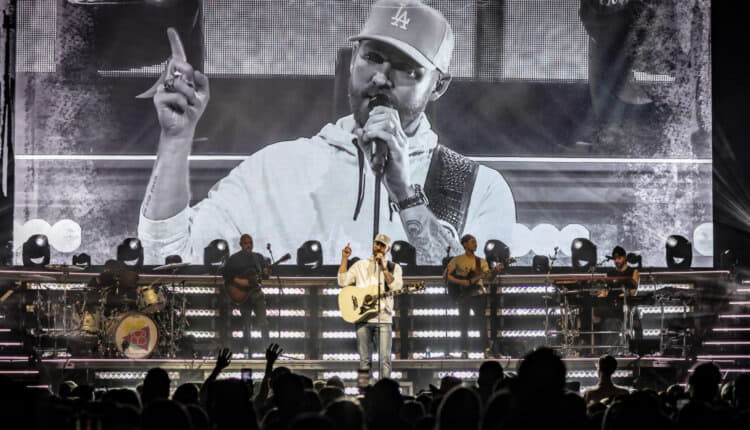 LIVE: Brett Young at Turning Stone
Turning Stone Resort Casino welcomed Brett Young to the Event Center on Saturday night. Young is currently touring in support of his most recent release Weekends Look A Little Different These Days. The eight-song collection was released in June of 2021 and includes the number one single "Lady" which was written for Young's daughter and wife.

Born and raised in Orange County, California, Brett Young decided to pursue a career in music after an injury led to the end of a promising baseball career. He moved to Nashville in 2015 and started cranking out hits. He became an accomplished songwriter with a knack for writing well-crafted songs. To date, he has landed six singles at the number one spot on Billboard's Country Airplay chart. He also won the Academy of Country Music's New Male Vocalist of the Year in 2018.

Young kicked off the set on Saturday night with "Catch" and "1,2,3 Mississippi" off of 2018's Ticket to L.A. album. He followed these tracks with one of his biggest hits "Like I Loved You" off his self-titled 2017 release. The near-capacity crowd sang along with every word.

While waiting to photograph the concert, I met a couple in the front row. They had a sign that explained how they got engaged at a Brett Young concert, danced to his hit single "In Case You Didn't Know" at their wedding, and were celebrating their honeymoon at Saturday night's show. Halfway through the concert, Young pulled the sign on stage and acknowledged the newlyweds. It was a nice gesture that I am sure will be talked about for years.

I have always been a fan of seeing artists cover songs by their idols. So it is no surprise that the highlight of the show for me was when Young performed a solo acoustic, stripped-down version of John Hiatt's 1987 classic "Have A Little Faith In Me."

Young has the ability to write songs that connect with people and to tell stories that everyone can relate to. He explained that even someone who is in love can enjoy a good heartbreak song, but that someone who is heartbroken rarely can enjoy a happy song. This was the introduction to "Mercy," another number one single from his eponymous debut album.

Fans got a twenty-song set including all eight tracks from Weekends Look a Little Different These Days. He closed out the main set with "Here Tonight" off Ticket to L.A.

A two-song encore followed with the new song "You Didn't" and his very first single "Sleep Without You" closed out the show. The production on this tour is impressive. A huge video wall was complimented by a state-of-the-art lighting system. The sound was wonderful, with the band sounding note-perfect. Young worked the stage masterfully, never staying in one place too long. He made sure that fans in every section of the event center got an up-close and personal view.