315 EATS: Clinton Ale House – Clinton, NY
What a Friday! Wanted to have some fine dining experience but no luck for three restaurants in a row. We gave up on "hanger" and decided to try the Clinton Ale House which is close to home.
We tried takeout months ago but unfortunately, they did not put in our order after the call. We waited for one hour for nothing and that first impression led to avoidance for months.
Glad I finally opened the door. It was not a bad decision.
From the outside, I would have not expected that the interior is actually spacious, open, and neat. This gave me the first good impression. There was only one person to serve on a busy Friday night and she was doing her best in taking care of the customers. Not like some will check in with you frequently but she responded timely to our request. This is what we preferred.
We ordered two Oktoberfest beers, both were good. A good drink selection is a plus for this place, by the way.
We ordered the Utica greens as an appetizer, and the Ale House burger and fried Buffalo chicken wrap for entrees, both with a side of sweet potato fries. The greens came not long after our order was placed (luckily we were there early) and it was a nice, big plate. The plating looked neat and made you feel relaxed. The bread that came with it was warm, light, and fluffy — the kind I like the most. Bonus: rich, melted garlic butter (yum!).
The greens were quite flavorful. You can choose from sweet, mild, or hot. We chose mild. What I liked the most about this dish is how clean the greens were. Because greens are blanched first, the final product can be greasy or watery if not cooked well. Flavor-wise, this may not be the best, but the neatness of the greens was at the top of the list among greens I have had so far. They were dry, the good kind of dry, that absorbed a lot of flavors, slightly saltier than what I like but overall, a very nice dish. I did not mind the higher than average price for it.
When ordering, I was debating between a burger and riggies. I asked the waitress for a recommendation. Of course, both are good according to her, and she seemed very confident about their burger. It was a neat burger, a brioche bun sandwiching a six-ounce patty, a thin piece of cheddar, and the usual lettuce, tomato, onion trio. That's it. I was a bit surprised by the simplicity of the burger. Usually, something named after the restaurant features something special (in this case, I had expected some secret sauce or combinations).
The simple burger was cooked nicely and seasoned well. I think it is probably a perfect burger for people who enjoy a natural burger that brings out the goodness of the main ingredients. However, it is just not for me. It was a thin slice, so the cheese was almost invisible to my taste buds. No ketchup or mustard also made it harder for me to enjoy it.
The first bites were interesting, but after a few, my attention shifted more into the dryness and simple flavors, along with the slight raw beef smell. Personally, I prefer a wetter or messier burger with a more complex flavor profile. The raw beef smell (cooked medium per my order) started getting stronger as I was less hungry. However, the sweet potato fries were excellent. Absolutely crunchy and fresh. Sadly, I could not finish all of them.
I took a bite of his buffalo chicken wrap. It was breaded chicken and blue cheese. All I could remember from that bite was the strong blue cheese. This does not mean it was bad. It was actually a good wrap. The blue cheese was just a bit overpowering and took over the chicken.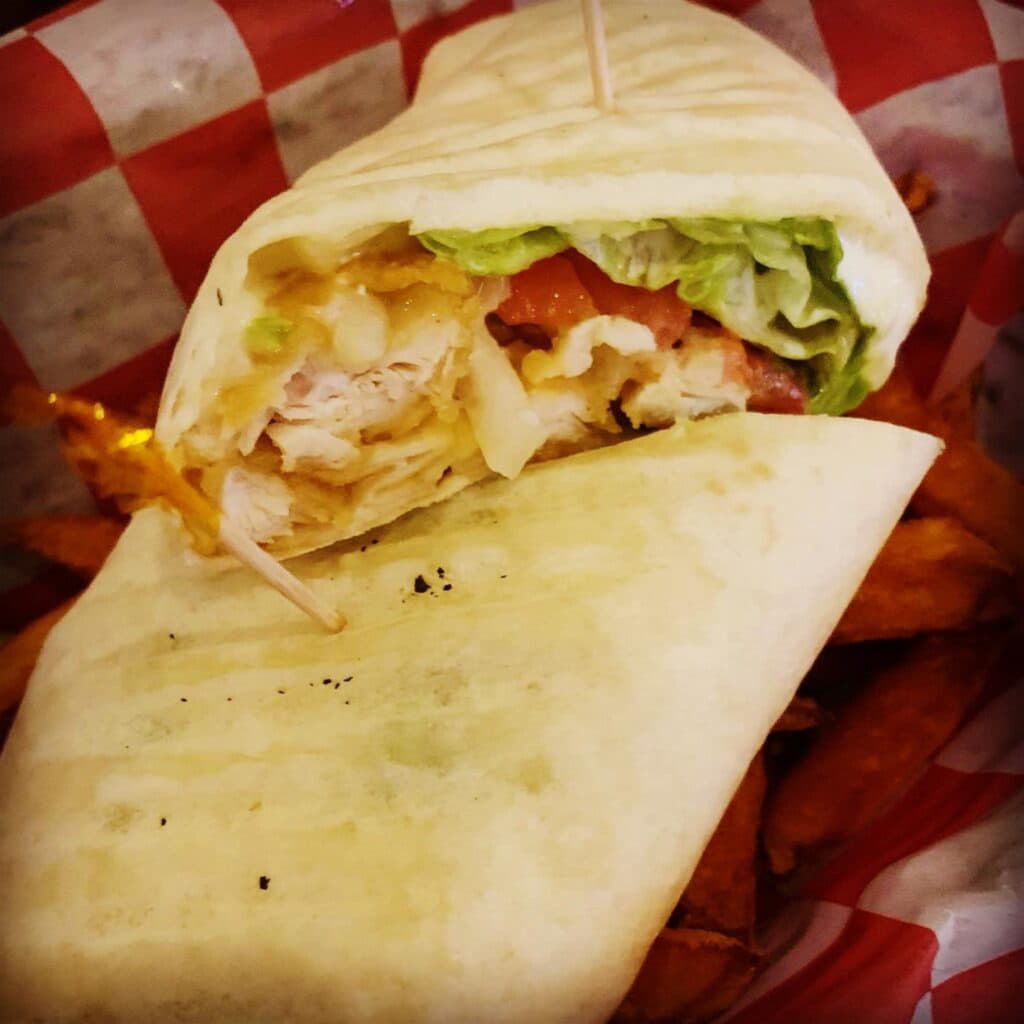 The checkout experience was also pleasant. To avoid long waiting we usually present the card when we are done. Usually, the waiter/waitress will see that and bring our bill in then leave even though our card was on the table. When she confirmed that we didn't need to see the bill first, she took the card and came back with everything quickly. We finished the checkout within a minute.
The overall good experience gave me more confidence in the restaurant. Next time I will try some different dishes, even different burgers to see if my feeling is correct or their food is consistent.
One final note, I learned that it is always a good idea to call before you go or make reservations, even for a small party.