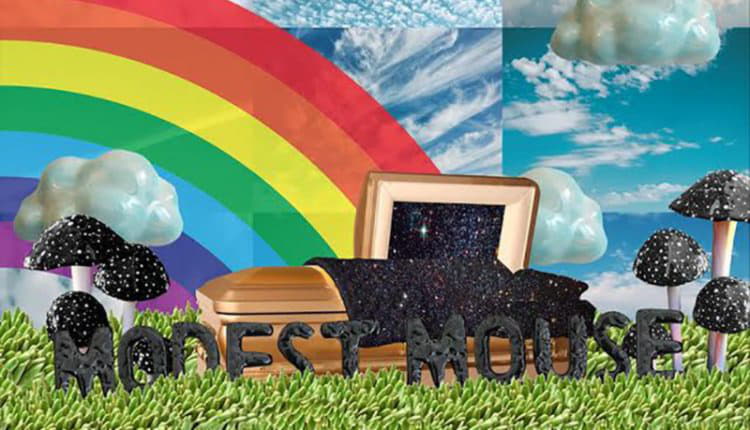 MODEST MOUSE SELLS OUT BREWERY OMMEGANG
Live music has returned to one of the most renowned Brewery's in the world, Brewery Ommegang, located in the beautiful village of Cooperstown, NY. Fans were clearly excited as Modest Mouse with special guests The Districts have sold out the show in record time. With a new album and new US tour, including a slew of festivals, fans are in for a real treat.
Modest Mouse with the release of new music has plotted out an extensive US tour which will include festival stops at Lollapalooza in Chicago, Life is Beautiful in Las Vegas, and Austin City Limits in Austin, Texas. This is in addition to shows at NYC's Brooklyn Steel, LA's Theatre at the Ace Hotel, and DC's The Anthem. They'll also be joined on a string of dates by special guests, Future Islands, at their shows at Denver's Red Rocks Amphitheater and Seattle's Marymoor Park.
The band's seventh- studio album, The Golden Casket, heralds another new chapter in the band's unpredictable evolution. Over the past quarter century, Modest Mouse frontman Isaac Brock has served as indie rock's resident backwoods philosopher, pondering his infinitesimal place in the world at large and seeking balance in a universe governed by polar opposites. On Modest Mouse's earliest records, he was surveying the changes in the world's physical landscape from the windows of the tour van, lamenting the displacement of natural beauty with big-box blights. The Golden Casket explores the degradation of America's psychic landscape through the glass of the smartphone screen and invisible technology. In the early release of "Leave a Light On," the song finds Brock navigating the existential threat of losing our humanity – and the interconnectedness that come with it – amidst a constant societal barrage of physical and digital materialism. We also see Brock touch on a new theme in his life, fatherhood in this new music.
Produced with Dave Sardy and Jacknife Lee in Los Angeles, and in Modest Mouse's studio in Portland, the album hovers in the liminal space between raw punk power and experimental studio science.
The Districts will join Modest Mouse on this leg of the tour. Promoting their latest release, You Know I'm Not Going Anywhere, the band followed their creative instincts every step of the way, resulting in their most sophisticated and adventurous record to date. This record is paradoxically the most-Districts record ever with no intention of ever being one at all. It's about breaking free from how you're seen, always being yourself first and holding on to who you are—but also about coming together as a whole and putting your 'self' aside.
For the best concert day experience, please see below for times, rules, camping info, and answers to many frequently asked questions.
CONCERT DAY SCHEDULE
3:00pm – Parking lot opens
4:00pm – Camping area and box office open
5:00pm – Main gates open
7:00pm – Show starts
11:00am (next day) – Camping checkout
**Times are subject to change**
TICKETS
– Tickets for the show as well as camping passes are sold out and will not be available at the gates day-of.
– Ticketing questions should be directed to info@dspshows.com or (607) 280-2900.
– To expedite entry, please have your tickets ready upon arrival (pulled up on your phone or printed is fine, as long as we can scan a barcode).
COVID PROTOCOLS
**Subject to change due to updated guidelines from state and local health authorities.**
– Per CDC recommendations and State regulations, unvaccinated patrons are required to wear a mask. Masks are optional for fully vaccinated guests.
– Please be respectful of our staff and your fellow concert goers. Anyone caught being abusive to any of our staff or guests will be removed from the property, no exceptions.
PARKING
– CARPOOLING IS RECOMMENDED AND ENCOURAGED AND WILL SPEED UP THE ENTRY AND EXIT PROCESS.
– FREE parking is available at the Brewery Ommegang events lot, scheduled to open to the public at 3:00pm. Campers are advised to arrive early and to park at the far end of the venue lot, closest to the camping entrance.
-Please do not park on the side of the road. It is private property and cars will be towed. There is no need to pay for parking and no satellite lots are being used. All parking is FREE and available at Brewery Ommegang.
– ADA/Handicap parking is available, please notify a parking attendant upon your arrival.
– RVs of any kind are NOT allowed in any event parking areas.
– DO NOT park on the side of the road or walk to the brewery. Please stay in your vehicle while waiting to enter the parking area.
– Taxi pickup at the end of the show will be run first-come, first-served (airport style). Any taxis called to Ommegang will pick up the next available riders in the taxi line.
CAMPING
– The camping area is scheduled to open at 4:00pm (times are subject to change)
– Tent camping only. No RVs or vehicles of any kind are permitted in the camping area.
– There is a separate camping entrance at the far end of the parking lot. Camping check-in and will call will be at this entrance only. After the music starts, re-entry is available to campers through the camping entrance only.
– You may bring outside food and non-alcoholic beverages into the camping area. Any non-approved items will be confiscated and disposed of. No glass containers.
– Open flames are not allowed in the camping area or anywhere else on Ommegang's property (i.e. no charcoal or propane grills, no campfires)
– Patrons without camping passes will not be allowed into the camping area under any circumstances.
– Checkout for camping is 11:00am.
VENUE
– Our staff and volunteers are very friendly. Please do not hesitate to ask if you need help. Our security personnel are highly trained and there are EMTs on site for your assistance.
– Brewery Ommegang is an outdoor venue and our events are RAIN OR SHINE. Please plan for the weather. However, the safety of the artist, fans and staff comes first. If severe weather threatens the area, we will evacuate the premises until such a time when it is safe for the show to continue.
– No re-entry except for attendees with camping passes.
– There are ATMs on site.
– Performers and Brewery Ommegang will be selling merchandise.
– There will be many varieties of food for sale that will be available as soon as gates open. There will be vegetarian, vegan, and gluten-free food options.
– No open flames.
– 21+ bracelets will be provided upon entry. Customers must show bracelets to purchase alcoholic beverages. No alcohol may be consumed by persons less than 21 years of age. Non-adherence will result in removal from event grounds.
– Our staff reserves the right to cut off alcohol service to any individual that appears to be intoxicated. This is at the discretion of the servers.
– Bags will be checked by security upon entry.
– No outside food or beverage is allowed in the concert area. These items are allowed in the camping area.
– No pets permitted, only service animals.
– Please do not bring any weapons, explosives, glass, or illicit substances.
– No aerosols are permitted (such as aerosol bug repellent or sunscreen).
– No cameras or audio/video equipment permitted.
– You may bring blankets, chairs, and handheld umbrellas into the venue with you. These items may not be placed in the front half of the venue.
– Only vendors licensed with Brewery Ommegang and with NYS are allowed to set up and sell at Ommegang events. No exceptions.
– Please respect our property and staff. Anyone caught damaging property or being abusive to any of our concert staff (volunteers included) will be removed from the property. No exceptions.
– The brewery is closed to the public on concert days.
Please Note: This event will be presented in accordance with applicable public health requirements as of the date of the event; which could include changes to capacity, attendance prerequisites, procedures, and other protective measures.