315 Live Streams for the Week of April 6
Since restrictions on mass gatherings were put in place across the state in early March, musicians have found themselves with empty calendars and loss of income. To compensate for this many have taken to live streaming shows from their living rooms, basements and other unorthodox locations to keep busy and continue getting their music to fans.
Facebook has become the platform of choice for many Central New York musicians while some have turned to Instagram and Twitch. Whatever the platform, there is no shortage of performers to take in from the comfort of your own home on any given night.
In order to recoup some lost gig money, most of the performers have established "Virtual Tip Jars" through PayPal and Venmo. These links are usually listed in the event descriptions. And while tipping is not required, it is highly appreciated in these gig-less times. If you have the means, open up your virtual wallet a bit and help out these people who are helping all of us bear the isolation of being home.
315 Music has compiled a surely incomplete list of musicians scheduled to perform live during the week of April 6 – 10. Check them out below. If you're a Central New York-related musician and are planning to go live during the pandemic, let us know here at 315 Music. You can email submissions to mike@315music.com
Tuesday, April 7:
Just Joe has become a master of the streaming life. Joe Altier has been posting nightly "Tuneage" covers on his Facebook page and has been utilizing Twitch to go live daily, sometimes twice daily. You can catch Altier live on his Twitch page at noon on Tuesday.
Jess Novak has recently turned to Twitch as her platform of choice and can be found performing live here at 1:00 p.m. Novak has several albums of original material and with her Jess Novak Band. She's a mainstay of the CNY music scene and can be seen performing at venues both large and small throughout the region.
Max Scialdone will be going live with Kelly Preston on his Facebook page at 6:00 p.m. Schialdone performs a variety of material from all genres.
John McConnell is streaming live at 7:00 p.m. McConnell plays a mix of originals and covers using guitar, voice and looping. You'll hear a blend of jazz, blues, folk and funk from this CNY favorite.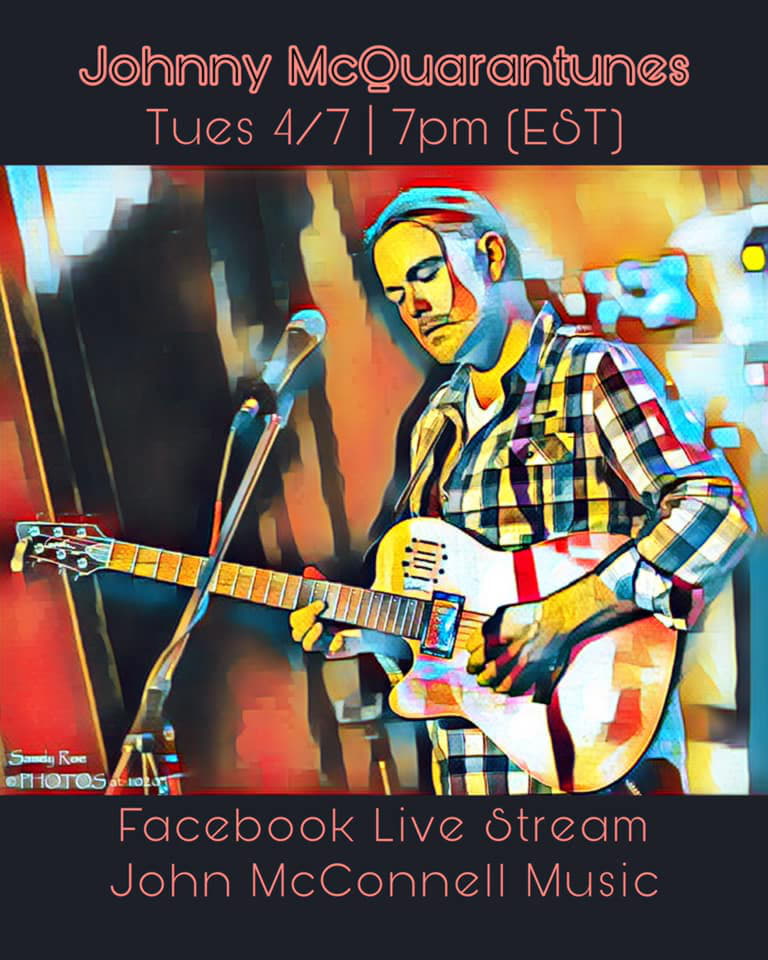 Chris Eves of Chris Eves and the New Normal will be performing the music of Phish from the Chris Eves and the New Normal Facebook page beginning at 8:00 p.m. Eves and his band won the 2020 SAMMY Award for Best Rock Album One Spark early last month.
Wednesday, April 8:
Jess Novak streams live again on her Twitch at 1:00 p.m.
Also performing on Wednesday is CNY's most famous jamband, moe. They're taking over fans.com for the day, beginning at 1:00 p.m. The marathon will feature shows from the 315-connected band's storied history, live interviews and fan Q&A.
Tim Herron takes the virtual stage at 7:00 p.m. on Wednesday. The leader of the long-running Syracuse act the Tim Herron Corporation, has made Wednesday his day of choice to live-stream his music for fans. Check out his song "The River" below.
The Hamilton Movie Theater began a series called the Hamilton Unity Concerts last week with a show from Blaine Holcomb. That series continues this Wednesday with Edwin Vollmer. Proceeds from his virtual tip jar will go towards Maxwell's Chocolates and Ice Cream to purchase treats for the staff of Community Memorial Hospital in Hamilton. His show starts at 7:00 p.m. and will be streamed through the Hamilton Movie Theater Facebook page.
Also at 7:00 p.m. on Wednesday, Seth Owen Becker of The Old Main will go live at The Old Main's Facebook page. Becker possesses great vocal range and is a tremendous guitarist who performs mainly Americana material but isn't afraid to throw in a little punk attitude from time to time. Becker will draw upon his band's material as well as some off-the-beaten-path covers in his intimate set.
Just Joe returns to Twitch Wednesday night, this time at 7:30 p.m. Altier is as versatile as they come. Equally able to perform an Alice in Chains classic or a tender '70s AM rock staple. Below, you can check out his tribute to Chris Cornell of Soundgarden in his piano take on "Black Hole Sun."
At 8:00 on Wednesday, Joe Driscoll performs the music of the Wu-Tang Clan via his Facebook page. Driscoll has been going live every other day, performing sets of his original material as well as tributes to such diverse artists as Tracy Chapman, Ani DiFranco, The Beatles, Outkast and Bob Marley. His original music covers ranges from acoustic folk to beatboxing hip hop to world music. Driscoll is definitely a Rennaissance man. His tribute to the Wu-Tang Clan is sure to be a highly entertaining set.
Thursday, April 9:
Thursday sees Just Joe and Jess Novak returning to the virtual airwaves. Novak begins her Twitch set again at 1:00 p.m. while Just Joe's Twitch will carry him live at 7:00 p.m.
Friday, April 10:
Friday has Novak performing again at 1:00 p.m. via her Twitch page and Just Joe on his Twitch at 7:00 p.m.
Eves returns on Friday with a tribute to the Beatles at the Chris Eves and the New Normal Facebook page for a Happy Hour set beginning at 4:30.
KMase Productions and Funk 'N Waffles present the weekly Friday series Six Feet Apart Live. Each week features a different artist. This Friday's is still to be announced. Check in on the Funk 'N Waffles Facebook page at 7:30 p.m. Friday for the live stream.
Driscoll returns on Friday night performing music from his 2006 album Origin Myths. Check out that album below.
There is no shortage of artists going live. This is just a small sample of some of the Central New York talent you can check out throughout this week. 315 Music will update this list as more artists announce virtual gigs.
For virtual shows all day long, visit the Kinfolk Facebook page run by Buffalo-based Americana artist Tyler Westcott of Folkfaces.
Central New York also has a virtual concert Facebook group run by blues vocalist Cathie Timian. The CNY COVID 19 Live From Home Concerts group features 315-based acts in both live and recorded performances.
For more regional, national and worldwide acts, Busking Down the House has been providing back-to-back performances for several weeks. Artists such as Hayley Jane and Stiv Morgan have made appearances in this group throughout the crisis.