LIVE: Luke Bryan Sells Out CMAC
Taking us back to his roots on his Raised Up Right tour, Luke Bryan made "Waves" selling out CMAC in Canandaigua on July 15.
Bryan has a solid lineup on this tour with openers Mitchell Tenpenny and Riley Green. Tenpenny's performance started off the night with a lot of energy. Tenpenny had fans singing along to his hits "Truth About You," "Bucket List," and "Drunk Me."
Tenpenny is a Nashville native and spoke about meeting artists such as Chris Young at Winners and Losers. He is a talented songwriter and will be selling out Amphitheaters like Bryan in a few years. He is a true talent not to be missed. Pro tip: Get to the show early to catch Tenpenny's set.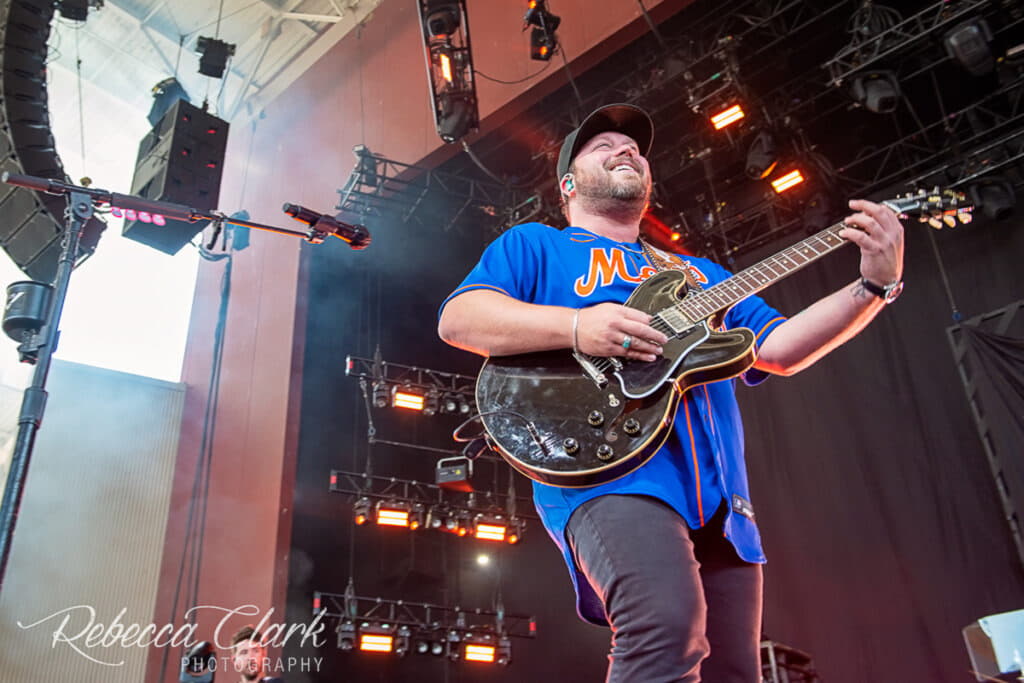 Next up was Riley Green. Green has an older country sound mixed with the new country. His stage presence is more laid back. Highlighting his nickname, Green has an impressive Duckman neon sign as a backdrop and grass patches all over his set giving his stage a duck hunting element. Green has a stage presence similar to Eric Church but he fits in well with the "Raised Up Right" tour.
Green performed his track "There Was This Girl, "If It Wasn't for Trucks," and "I Wish Grandpas Never Died."
In between sets getting fans pumped DJ Rock played a mash-up of new and old country songs. Once DJ Rock finished his mini set the lights went dark and the crowd screamed in anticipation of Bryan coming to the stage.
A few notes of "I Don't Want This Night To End" and the silhouette of Bryan's profile through the curtain made the crowd go wild. The curtains pulled up and Bryan began the show in the back on risers asking "What's up CMAC?" Bryan was smiling from ear to ear pointing at fans as he made his way to the front of the stage.
Bryan has such a captivating and fun stage presence and isn't afraid to be his genuine self up there. He embraces his mistakes while he plays the guitar by laughing at himself and gives off so much radiant energy when he is up on that stage. Bryan is a huge star outside of his music career with American Idol, yet it is still apparent that he truly appreciates his fans just as much as he loves what he does.
One major difference that sets this tour apart from his previous tours, is that Bryan went back to his roots by playing guitar on more songs. It was amazing to see him strumming his guitar more at this show. Bryan might be a little rusty with his guitar skills, but he still got his "Country On."
In the middle of Bryan's set he "Stripped It Down" and tickled the keys for "Do I" then brought out Tenpenny to join him. They performed a song Bryan wrote for Billy Currington "Good Directions and Turnip Greens." Another nod to Bryan's roots when he was getting songwriting credits under his belt.
Then Green joined Bryan by surprising him by playing "I Did It Again" from Bryan's 2009 album "'Doin My Thing." Bryan was impressed with Green's rendition of his song commenting on how Green dug into the archives for that one. Then Green and Bryan dived into their country roots by playing a mash-up of classic country songs they were "Raised Up Right" on. They then played bits of songs such as Tracy Lawrence's "Time Marches On," George Strait's "The Fireman," Merle Haggard's "Silver Wings," Hank Williams Sr's "Family Tradition," and The Judds' "Grandpa."
Bryan always makes it a point to involve his opening performers mid-set and this time Bryan changed his routine up and incorporated many artists' songs that country fans and musicians grew up listening to. It was a special mash-up that tied perfectly into the theme of this tour.
After taking fans on a trip down Classic Country Music Lane, Bryan dove right into "Drink a Beer." Then he kicked it up a few notches again with "Roller Coaster" and "Crash My Party."
Bryan put on such an incredible show and the fans didn't want this night to end. He ended his set in true Bryan fashion with "Country Girl." Once the track was done Bryan ventured to the back of the stage up to the risers and as they lowered him down, did a little booty shake as he bid his fans farewell.
Bryan is one of the best country music entertainers and his shows never disappoint. Seeing Luke Bryan perform makes summertime in Western NY feel so much sweeter.
Set List:
I Don't Want This Night to End
Kick The Dust Up
Kiss Tomorrow Goodbye
One Margarita/Sunrise, Sunburn, Sunset
Huntin', Fishin' And Lovin' Everyday
Country On
What Makes You Country
Waves
Most People Are Good
Drunk on You
Buy Dirt
Piano Mash Up
Drink a Beer
Roller Coaster
Crash My Party
Knockin' Boots
Move
Play It Again
Rain Is A Good Thing
That's My Kind of Night
Country Girl