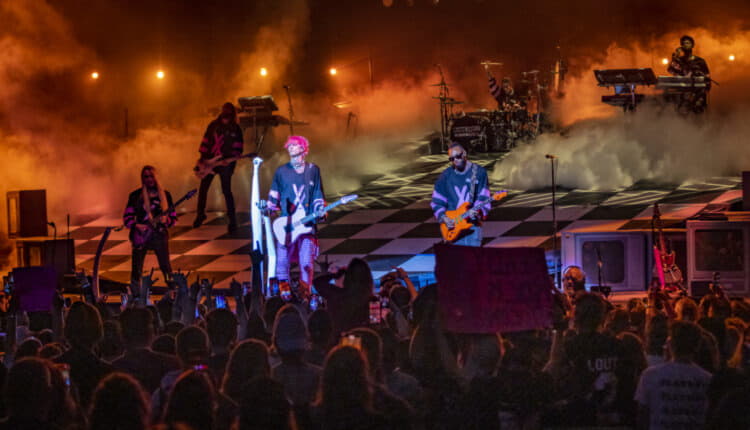 LIVE: Machine Gun Kelly's Mainstream Sellout at The Amp
Musical superstar Machine Gun Kelly (MGK) brought his wildly popular Mainstream Sellout Tour to St. Joseph's Health Amphitheatre at Lakeview on Tuesday night. Over fifteen thousand fans made their way to The Amp despite the dreary weather conditions of the day.
MGK has been riding high lately with his second straight number one album and the release of "LIFE IN PINK," a Hulu documentary about his life and career. His first two albums were mostly hip-hop, while his most recent releases have found him experimenting with pop-punk. Teaming with the likes of Blink-182's Travis Barker has helped hone his skills in his cross-genre releases.
MGK has been selling out arenas and amphitheaters all over the world. The production value of his tours has steadily increased with his increased popularity. Tuesday night's show was a spectacle. A pink helicopter hung high above the stage. As the band kicked off the opening number "Born With Horns," a ladder attached to the chopper hoisted MGK into the air. Dangling from the ladder he belted out the track from his most recent album Mainstream Sellout. Once he was lowered onto the stage, he donned his trademark pink Schecter Tele and launched into "God Save Me."
MGK's touring band is impressive. The dual guitar attack of Justin Lyons and Sophie Lloyd was a personal favorite of mine. They traded off leads and really brought the songs to life on stage. He ran the band through nearly thirty songs over the course of about two hours, deftly blurring the lines between rock and hip-hop. MGK kept the fans on their feet, dancing and singing along to every song.
He truly appeared to be enjoying himself on stage and he clearly loves his fans. At one point he noticed a couple in the crowd that just got engaged. He brought them up on stage and danced with them as he tore through "Emo Girl." He also made time to bring each of his opening acts back to the stage to perform with him. He brought iann dior out to sing "Fake Love Don't Last" and he brought Avril Lavigne on stage to perform a cover of her song "Bois Lie" from her 2022 release Love Sux.
One poignant moment was when MGK introduced his song "Lonely" by telling the audience that his father passed away on this date two years prior. You could sense him fighting back tears as he dedicated the song to his dad. It was refreshing to see vulnerability like that at a rock show. I was at the show with my fourteen-year-old son and it was a really touching tribute.
He closed the night out with "Twin Flame" from Mainstream Sellout. Thousands of cell phone flashlights were held aloft and filled The Amp with light, much in the way that Bic lighters used to. Love him or hate him, his showmanship and talent are undeniable. Over fifteen thousand fans left the concert totally satisfied with what they just witnessed.
23-Year-old Puerto Rico native iann dior kicked the night off with a tight ten-song set highlighting his hip-hop and R&B hybrid. He commanded the stage and really impressed. I believe that he is destined for much more success in the near and distant future.
Canadian rock hit-maker Avril Lavigne held down the direct support slot with an entirely too short, eight song set. Her setlist was split between her monster hits and some of her new releases. As she opened with 2007's "Girlfriend," her road crew sent gigantic black and orange balloons into the crowd, giving the audience a distraction as they passed them from front to back. Her voice is as strong at 37 years old as it was when she broke onto the scene at 16. This was especially noticeable on the set-closing anthem "I'm With You."
It was another successful, epic night at Lakeview. The next show is Friday night when country mega-star Morgan Wallen brings his sold-out show to town.