LIVE: The Dead Daisies at the Showplace Theater in Buffalo, 9/17/21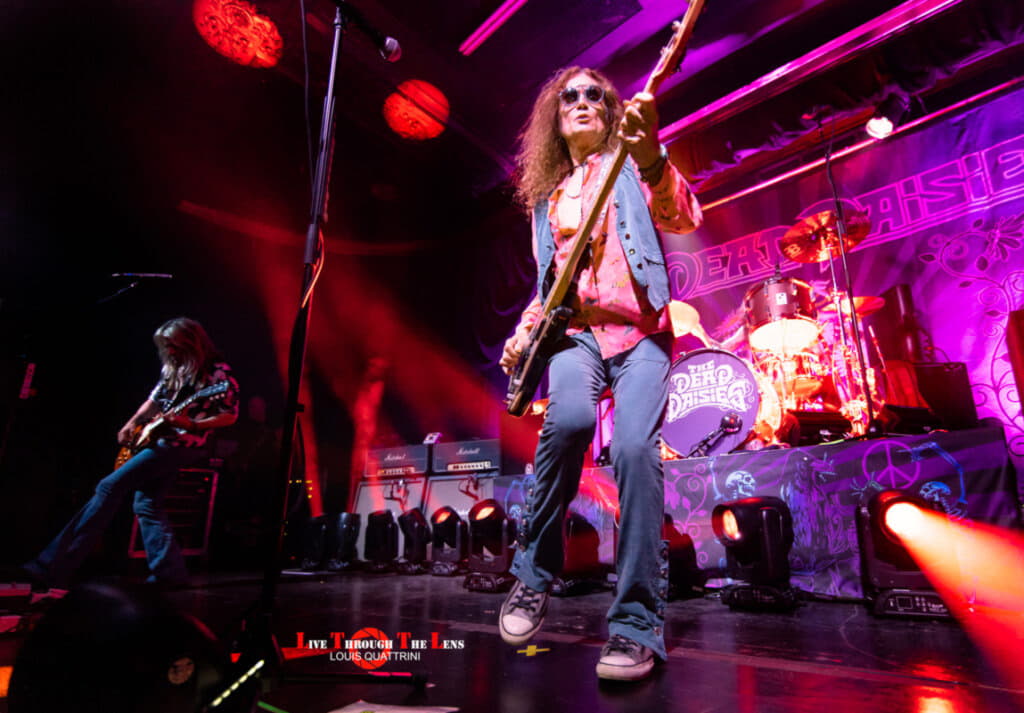 The powerhouse supergroup, The Dead Daisies led by legendary frontman Glenn Hughes, made a stop at the historic Showplace Theater on a hot sweaty night in Buffalo, as part of their rescheduled Like No Other tour that was put on hold in 2020 due to the Covid pandemic. The Dead Daisies definitely brought the burn and lit up the historic venue with a blistering 16-song set that left the intimate crowd stunned on their feet. The Showplace Theater has a capacity of over 800 people, however, it appeared the crowd that showed up for the show was less than half of that. By the sound and energy coming from the room it definitely had the vibe of a fully packed house. What is enticing about these guys is their love of music, playing together, having fun, and entertaining their fans. They give a fully charged, powerful performance regardless of whether there are 500 or 50,000 fans.
The Daisies, formed in 2013 in Sydney, Australia, by guitarist David Lowy who is still with the band, have gone through numerous lineup changes since their inception, however, this new four-piece lineup seems to hit on all cylinders with 100% octane. This current line up features Rock and Roll Hall of Famer, "The Voice of Rock" Glenn Hughes (Trapeze, Deep Purple, Black Sabbath, Black Country Communion) on bass guitar and lead vocals, Doug Aldrich ( Whitesnake, Dio, Revolution Saints) on lead guitar, David Lowy, founding member on rhythm guitar and Tommy Clufetos (Black Sabbath, Ozzy Osbourne, Alice Cooper).
The Dead Daisies are playing songs from their newest critically acclaimed 2021 Holy Ground album including "Unspoken," "Bustle and Flow," and title track "Holy Ground." Also included in this adrenaline-fueled set were songs from their debut self-titled album, as well as Revolucion, Make Some Noise, Burn it Down, and Locked and Loaded. The night however would not be complete without some blistering classic Deep Purple tunes with Hughes sounding better than ever on "Mistreated" and finally "Burn" to end the show. Click the following link to see a clip of "Mistreated"
If you're a fan of amazing world-renowned, world-class musicians, great rock and roll music, and a simply mesmerizing musical experience, you must check out The Dead Daisies this fall in the US before they head across the pond on October 30, 2021 for a long tour expected to run through July 2022.
Dead Daisies Set: Unspoken, Rise Up, Dead and Gone, Chosen and Justified, Mexico, Bustle & Flow, Lock N Load, Fortunate Son, Midnight Moses, Drum Solo, Mistreated, My Fate, Leave Me Alone, Like No Other, Holy Ground. Encore: Long Way To Go, Burn.
Opening for the Dead Daisies were The Black Moods, a tight, killer three-piece band, hailing from Tempe, Arizona. The Black Moods consists of vocalist and guitarist Josh Kennedy, bassist Jordan Hoffman and drummer Chico Diaz. The Black Moods played an entertaining nine-song set that may have surprised many in the crowd as they commanded the attention and respect from the discerning rock and roll fans in attendance. They played songs from their three studio albums including "Sunshine," "Can't Sleep," "Belladonna," which drew loud crowd participation. They also played a new song, "Saturday Night" and a very cool cover of Tom Petty's "Need To Know".
Also on the bill, in between sets was Emmy Award winner and comedian Don Jamieson of VH1 Classic's That Metal Show, who kept the energy, drinks, and laughs flowing between bands with his rock and roll and heavy metal humor. He was very approachable and an overall extremely cool guy who definitely knows his rock and metal history, even though he had a personal intimate moment with the band Poison, so he explains.