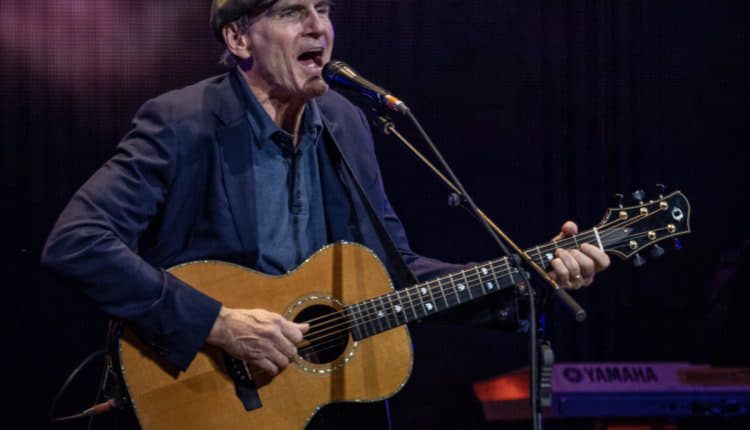 Concert Review: James Taylor and Jackson Browne Shower the People of Syracuse with Music
Over 10,000 people made their way to St. Joseph's Health Amphitheater at Lakeview on Sunday night to see two musical legends. Lines of fans started forming early in the day, with people braving the heat and humidity to ensure a good spot on the lawn. The amphitheater seating was sold out by showtime.
James Taylor and Jackson Browne are both Rock and Roll Hall of Fame members. Their careers have touched parts of the last seven decades, with Taylor's debut album dropping in 1968. Browne's first taste of success came in 1967 when Nico recorded his song "These Days" which was written when Browne was just sixteen years old. Both are not just performers, but incredible songwriters with over twenty Grammy nominations between the two. Taylor has amassed seven Grammy awards to date. Both have been inducted into the Songwriter's Hall of Fame.
Jackson Browne pulled tracks from his entire career and made the most of his ten-song opening slot. He kicked off his set with the title track to his 1993 album I'm Alive before moving onto 2014's "The Long Way Around." "Fountain of Sorrow" from 1974's Late For The Sky followed and showcased his gift for writing lyrics that can touch the soul. Next, Browne went all the way back to his 1972 debut record for the gorgeous, gospel-influenced "Rock Me On the Water." The next two songs were brand new, off of Browne's latest release.
"Downhill From Everywhere" and "Until Justice is Real" tackle social justice issues, which has been a recurring theme in his music throughout his career. Having given the crowd some new offerings, Browne settled in for the last four songs which were all fan favorites. "Doctor My Eyes" had people clapping, singing, and dancing. The song, released as his debut single in 1972 sounded just as fresh and relevant today. Settling at the piano, he gave a great, nuanced performance of the gorgeous "Late For the Sky." Browne brought headliner James Taylor out for the last two songs. Trading off verses on "The Pretender" and "Running on Empty." At 72 years old, Browne is still a force to be reckoned with musically. He hasn't lost a step.
The lights dimmed and the video wall sprang to life with videos of people covering Taylor's hit "Fire and Rain." Videos of other fans were shown, each telling how Taylor's music has touched their lives. Violinist Andrea Zahn appeared in a lone spotlight, with Taylor slipping in next to her. A brief violin solo set the stage for the night's performance. The stage lights came up and Taylor was greeted with a loud, rousing cheer. Starting the set off with "Country Road," Taylor steered his "All-Star Band" through eighteen tracks, showcasing his fingerstyle guitar playing and legendary songwriting skills. The aforementioned Zahn helped "Copperline" sound even more beautiful than normal.

Taylor introduced the song "That's Why I'm Here" by explaining that it was for his late friend John Belushi. He spoke of his own recovery from addiction and dedicated the song to others in recovery, before also dedicating it to anyone else who might still be struggling.

"Mexico" was turned into an extended jam with percussionist Michito Sanchez showing off his chops. Several songs later, Taylor strapped on an electric guitar and ran the band through "Chili Dog" and into "Steamroller." Saxophone legend "Blue" Lou Marini of Blues Brothers provided the highlight of this particular song.

Just prior to the COVID shutdown Taylor released a collection of American standards. He pulled one song from this collection, the fun "Easy As Rolling Off a Log." As he was introducing the song, the skies opened up over the venue and buckets of rain fell on the lawn crowd. The rain was brief and didn't seem to dampen the mood of the fans in the least.
Having played some new and some deep cuts, Taylor gave the fans what they wanted. Closing his set with the string of his biggest hits. "Sweet Baby James" had the fans swaying and singing on top of their lungs. He followed that with "Fire and Rain," "Carolina in My Mind" and "Shower the People" before finishing with his take on the Marvin Gaye classic "How Sweet It Is (To Be Loved By You)."

The band returned to the stage for the encore. The Martin Luther King Jr. tribute "Shed a Light" felt especially relevant in these volatile times. Taylor invited Browne back on stage for a joyful rendition of "Take It Easy, written by Browne and recorded by The Eagles. Browne chipped in on a cover of Carole King's "You've Got A Friend."
Taylor's son Henry joined him for the final song, "You Can Close Your Eyes." Like Jackson Browne before him, James Taylor is indeed getting older. His voice hasn't aged a day. I think this is why a guy who released his debut album during the Nixon administration can still sell over 10,000 tickets to his concerts.