The Wood Brothers and Valerie June Rock in The Rolling Hills of beak and Skiff Orchards
August 13, Lafayette, NY
The Wood Brothers and very special guest Valerie June joined collective forces to push away a few lingering rainclouds under the rainbows and beautiful sundown at Beak And Skiff Apple Orchards, to put on a magical show. This was the first general admission concert at the beautiful venue located in Lafayette amongst the many acres of apple orchards atop the rolling hills of Central New York.
Valerie June immediately captured the audience's attention as she began her solo set. June's voice is so unique and amplifies her message of love and soul. She switched between acoustic guitar, banjo, steel guitar and ended with an enthralling acapella tune during which you could hear a pin drop as she serenaded the crowd.
During her set, she played songs from her entire catalog including her latest release The Moon And Stars: Prescription For Dreamers. Between songs, June encouraged attendees to find what they love and share it. Her southern twang left everyone in attendance smitten.
The Wood Brothers took the stage to thunderous applause as the sun set behind them. The love that June began with her incredible opening set only continued to radiate as Jano Rix picked up his affectionally named "shittar" and joined Christopher Wood (Bass) and Oliver Wood (Guitar) at the front of the stage. The audience was singing along immediately as the three-piece band moved in and out of their incredible catalog of tunes. "Alabaster" and "Little Bit Sweet" were standouts from their latest record 2020's Kingdom In My Mind. Rix moved to the full kit for some of the upbeat tunes that had the crowd dancing. A tender sing-along of one of their first tunes ever written "Luckiest Man" was a beautiful and delicate moment.
Prior to ripping into their encores, the Wood Brothers humbly invited June back onstage for a tender spiritual as they all gathered around one microphone. The call and response between Oliver and Valerie created goosebumps for those in attendance. The band asked for silence and the large crowd complied for this wonderful shared moment.
Overall, it was a completely magical night, and the smiles as the lights came up truly captured the spirit of live music, coming together and safely enjoying a human experience. The venue did an excellent job monitoring nearby thunderstorms and keeping everyone updated and safe. Despite the brief delay, a few raindrops did not stop the perfectly mixed sound, awesome light show, beautiful setting, and the joy shared onstage that reflected right back from the crowd.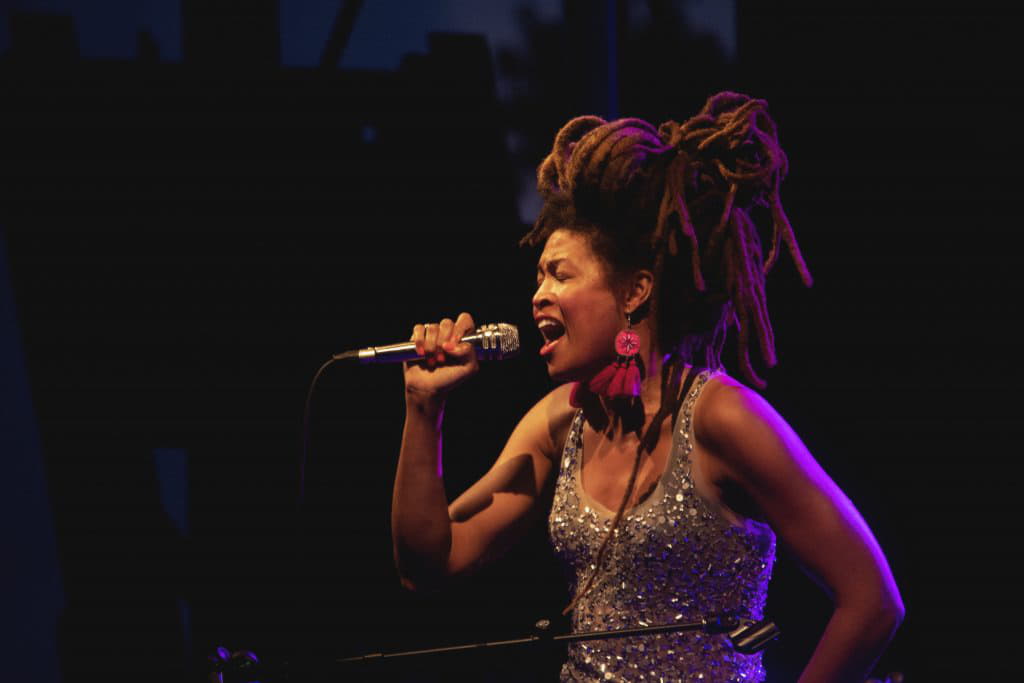 You can find tour dates and more from The Wood Brothers and Valerie June here respectively: thewoodbros.com — valeriejune.com
Follow the Beak And Skiff Concert Series here: beakandskiff.com