Woodsfest Forced to Alternate Venue Due to Tornado Damage
Woodsfest Music and Arts Festival, a regional festival that has been held at the Woods Valley Ski Area in Westernville, NY in 2018 and 2019, has been forced to relocate to a different location for its 2021 return. The event will take place at Cider House Campground in Bouckville, Aug. 7 and 8.
On July 8, an EF1 tornado touched down just behind Woods Valley with wind speeds reaching 105 mph. Within six minutes, several Woods Valley outbuildings were destroyed and many trees were uprooted. The tornado then traveled across State Route 46 into the village of Westernville, damaging many houses, trees, and power lines; even lifting the steeple from the roof of the village's Presbyterian Church.
With the festival in jeopardy, organizers reached out to Cider House Campground in nearby Bouckville. The campground is well-versed in hosting large numbers of people during the annual Madison Bouckville Antique Show that attracts thousands. Cider House jumped at the opportunity to host the festival.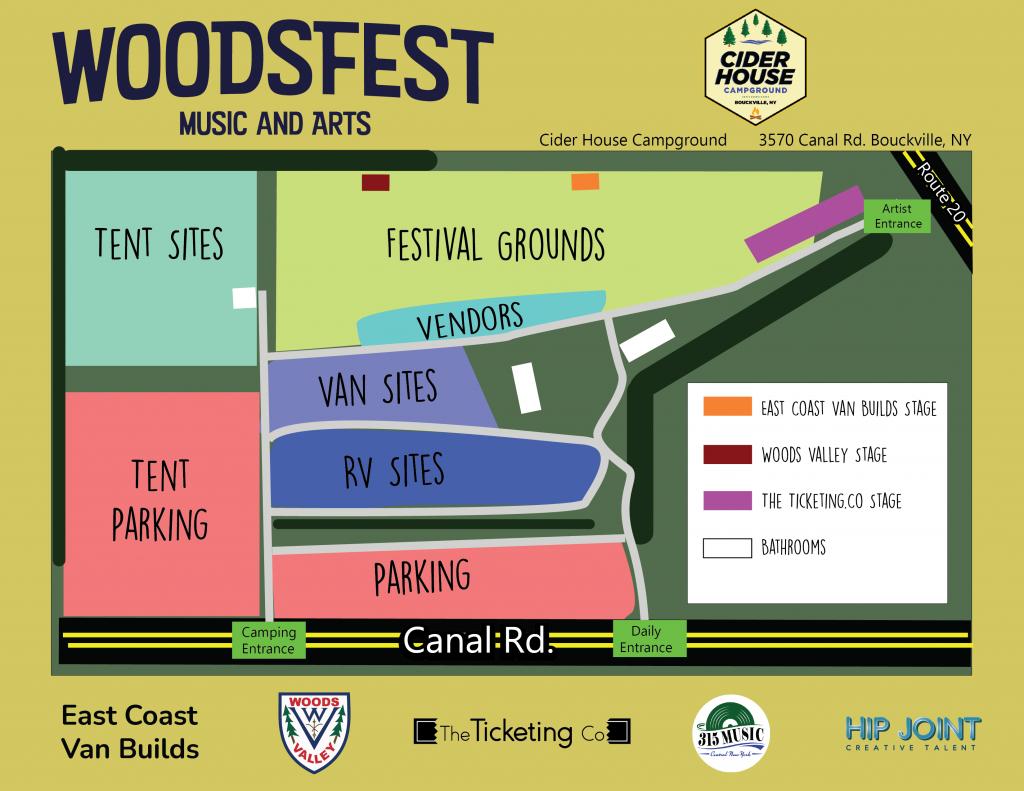 The change in venue also brought about a change in mission for the organizers. Woodsfest Music and Arts Festival has now become a festival for a cause. That cause is the Westernville Community Fund; a fund established to help the people of Westernville get back on their feet after the devastating effects of the tornado.
Woods Valley and Woodsfest organizers will be donating 100 percent of the profits from this year's festival to the fund. One of the scheduled artists, Les Brers — a local Allman Brothers tribute band with close ties to the Woods Valley community — has offered to donate their performance fee to the fund.
Festival organizers announced the venue change with the following statement:
Woodsfest III will kick off Friday, Aug. 6 with a pre-party in the campground pavilion with "A Real Swell Jam" featuring artist-at-large, Theodore the Grey and Friends, Cosmic Theo, and Copper Vein Clones.
The two-day event features all of the performers originally scheduled to play at Woods Valley. Saturday's headliners are Woodsfest II veterans Annie in the Water and Woodsfest rookies Roots of Creation. Sunday will be headlined by The Blind Owl Band and the highly anticipated return to the stage of Jimkata. See the daily schedules below.
Tickets for the event are $45 per day and $75 for the weekend for adults and $15 per day and $25 for the weekend for children aged 6-12. Children five and under will be admitted for free. You can purchase tickets through The Ticketing Co., which has generously offered to donate 50 percent of service fees to the Westernville Community Fund.
The change in venue now allows festival-goers the opportunity for tent, van, and RV camping for an additional fee. For more information on ticketing and camping, visit the ticketing site here.
315 Music is an official sponsor of Woodsfest Music and Arts Festival.