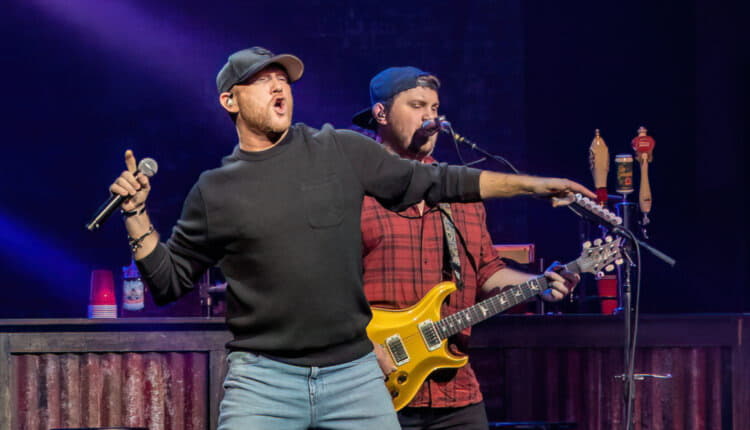 Cole Swindell Rocks the SOLD OUT Event Center at Turning Stone
Turning Stone Resort and Casino has been bringing in top notch entertainment for years. Despite the intimate size of the room, the 5000 seat venue in Verona has consistently been a stop on some of the biggest tours. For example, The Killers played a sold out show here earlier this year. A few nights later they played at a sold out Madison Square Garden. Comedy legend Adam Sandler brought his tour through town last month.
The Event Center was once again sold out for a visit by Country Music superstar Cole Swindell on Friday night. Swindell brought his 2022 Back Down To The Bar Tour to the stage with special guest Ashley Cooke.
A steady stream of folks in cowboy boots and buffalo plaid made their way to the event center to see Swindell who has made some big moves since the last time he headlined at Turning Stone. He told the crowd that he had once played at the Tin Rooster, the much smaller Country Music club at the resort.
Swindell has been churning out hits consistently since his debut in 2014. He has twelve number one hits to his name as either and artist, a songwriter or both. He made sure to give the fans as many of these as possible on Friday night. One of his most recent hits is a duet with recent CMA Best New Artist Lainey Wilson. Swindell welcomed opening act Ashley Cooke out to cover the other half of the duet, "Never Say Never." Cooke nailed Wilson's part, but more on her later.
A medley of songs that Swindell has penned for other artists included tracks by such Country Music heavyweights as Luke Bryan, Florida Georgia Line and Thomas Rhett, who Swindell will join on an upcoming tour.
Swindell's touring band runs like a well oiled machine. I was particularly impressed by his lead guitarist Joel Hutsell. Hutsell's leads ran the gamut from understated and tasty to incendiary and face melting. I see a lot of country concerts and I can say that Hutsell's playing is some of the best that I have seen.
Swindell's music, like much of country music covers themes of love, loss and drinking. Some of the biggest cheers of the night came during the drinking songs like "Single Saturday Night" and "Ain't Worth The Whiskey." A great medley of 90's Country hits helped pay homage to his idols and to set up the last song of the night. Snippets of classics by Brooks & Dunn, George Strait, Joe Diffie, Toby Keith, John Michael Montgomery and Garth Brooks got the crowd pumped for Swindell's most recent hit, the biggest of his career yet. The track "She Had Me At Heads Carolina," is a tribute and a re-working of the 1996 Jo Dee Messina smash "Heads Carolina, Tails California." It was the perfect ending to a night full of sing alongs.
Newcomer Ashley Cooke opened the show with the tight forty minute set that highlighted her considerable vocal talent. While a "new" artist, Cooke appeared very comfortable on stage. She moved non-stop from one end of the stage to the next, smiling from ear to ear. She was clearly very grateful for the opportunity in front of her and she grabbed it with both hands. The audience really enjoyed her take on the single she recently released with Brett Young, "Never Till Now." Thousands of cell phone lights were held aloft while she sang the song.
As I mentioned at the beginning of this article, Turning Stone is impressive. There is not a bad seat in the house. The staff is courteous. There are plenty of food and drink options and the sound is surprisingly good for an arena. We are spoiled to have this great little venue. My favorite thing about Turning Stone? They have an actual box office with actual humans that are helpful. I purchased my tickets for this show last week and was able to avoid the exorbitant fees and nonsense that usually goes along with buying tickets online. Keep you eyes open for upcoming shows including LeAnn Rimes on December 2 and Chris Young on January 27. Get out, see a show. Thank me later.