Westcott Community Center Announces Van Fundraiser
The Vantastic Fundraiser, an online event hosted by the Westcott Community Center and Syracuse musician and city councilor Joe Driscoll, will take place Thursday, Feb. 11 from 7-9 p.m.
The event, an effort to raise money for a new van for the community center, will be simultaneously live-streamed on the Westcott Community Center's and Joe Driscoll's Facebook pages here and here.
The van is used to deliver meals and medicine to seniors throughout Syracuse's east side neighborhood.
The event features live performances from many Syracuse area musicians. The tentative schedule is:
7:00 – Joe Driscoll
7:10 – Colin Aberdeen
7:20 – Billy Harrison
7:30 – Chris Chiesa
7:40 – Major Player
7:50 – Larry Hoyt
8:00 – William Nicholson
8:10 – Riley Mahan
8:20 – Steve Scutteri
8:30 – Benjamin Ellison
8:40 – Zeke Leonard
8:50 – Jess Novak
Westcott Community Center provides over 5,000 rides every year to older adults on Syracuse's east side and access to services necessary to lead full and healthy lives. Residents have long depended on "Westcott Community Center's United We Ride Transportation Program" to access medical appointments, pharmacies, grocery stores, banks, and the Westcott Community Center congregate meals & Basic Needs Pantry services. All of these essential transportation needs are met using the Westcott Community Center's 14-passenger van which must be replaced.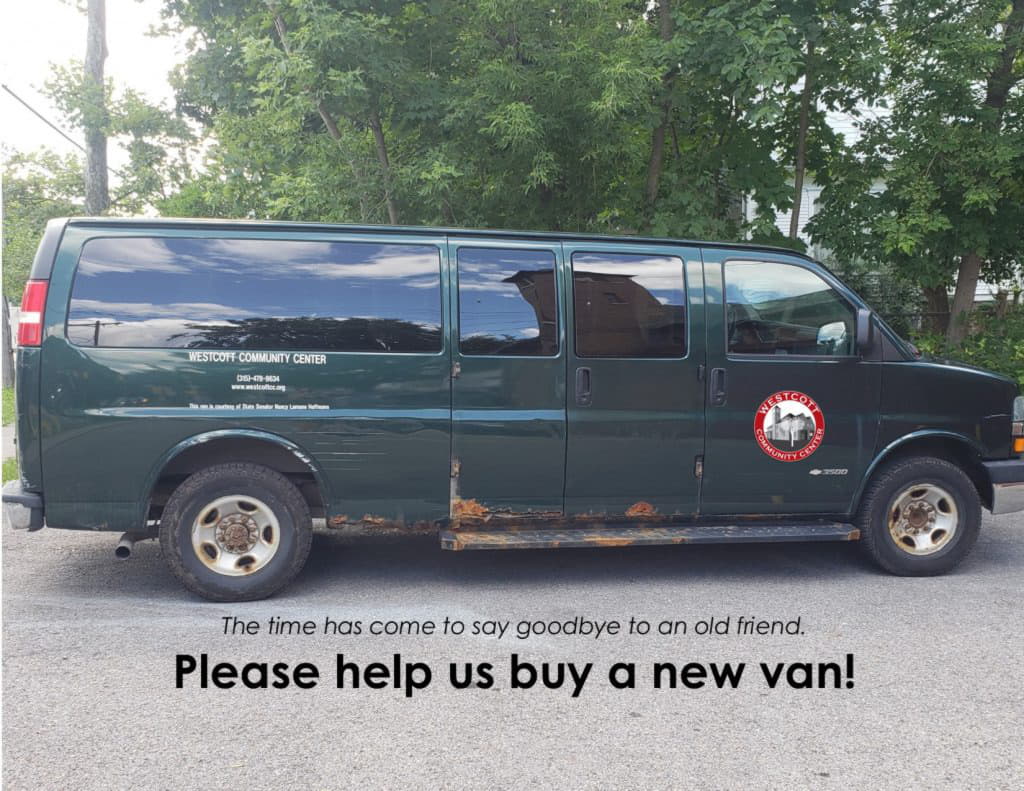 Purchased in 2003, the van has come to the end of its usefulness. The WCC needs to purchase a new van to continue access for essential and safe transport. Our initiative #WestcottCCRides kicked off on August 15, 2020.
Your contribution helps reach the goal of $45,000. You can make a donation through this GoFundMe link. For more information, visit the Facebook event page here.